Seeking the best free VPN for gaming to overcome high-ping rates and constant delays while playing your favorite video game? Luckily, you can bypass gaming challenges and make your video-gaming experience even more enjoyable with the help of a VPN.
There are many free VPNs out there that claim to offer excellent gaming speed and performance, but not all VPNs fulfill their claims. Free VPNs have some limitations such as poor speed & high pings, whereas others fail to protect you against DDoS attacks.
Therefore, we've conducted extensive research on free VPN services to help our readers in choosing the most reliable and trustworthy VPNs. We'll cover the top 6 free VPNs for gaming in this article that will enhance the overall performance and speed of your gaming.
Let's begin! The Best Free VPNs for Gaming – Quick Links
Let's have a quick summary of the free gaming VPNs covering different factors, such as server count, security protocols, gaming features, etc.
Obscured VPN: The Overall best free VPN for Gaming. The best free VPN for gaming PC offers around 14 servers in the free version. The standard account comes with multiple VPN protocols, a strict no-log policy, split tunneling, and 24/7 live support.
ProtonVPN: Free Gaming VPN with Unlimited Data and Bandwidth. Offered free servers in three different nations: Japan, the Netherlands, and the US. No data or bandwidth limits, an automatic kill switch, ad & tracker blocker, a proprietary anti-censor protocol, swiss privacy, etc.

Windscribe: Gaming VPN with free 10GB of Data Per Month. Offered free servers in 11 different countries, including the US, UK, and Germany. The VPN comprises a strict no-logging policy, unlimited simultaneous connection, a firewall, a kill switch, and ad and tracker blocking.
NordVPN: Secure VPN for Gaming: A gaming VPN with a vast network of over 5,200+ servers distributed across 60 countries. Strong encryption, a strict no-logs policy, automatic kill switch, ad and malware blocking, dark web surveillance, double protection, and Meshnet.

Surfshark: Budget-friendly VPN for Gaming: Boasts a network of over 3,200 servers in more than 90 countries. To enhance your gaming experience, it provides various features such as an ad blocker, antivirus protection, kill switch, bypasser, camouflage mode, and security protocol.

ExpressVPN: Fast & Reliable VPN for Gaming: The fastest gaming VPN offering reliability and security with its global presence across 94+ countries and a network of over 3,000 RAM-only servers. Help minimizes ping and lagging issues, protects against DDoS attacks, and prevents ISP throttling to enhance your gaming experience.
Best Free VPN for Gaming 2023 – Detailed Analysis
After conducting a thorough analysis, our team has identified the top 6 free gaming VPNs that offer exceptional gaming speed, reduced ping, and robust performance. Based on their fast and secure servers, we recommend the following six VPNs as the best free VPNs for gaming. Let's take a closer look at each of these VPNs.
Obscured VPN is simply the best VPN for gaming with a network of 1200+ servers among which 14 servers are accessible to free users. The Obscured VPN server masks your IP address and lets you unlock geo-restricted video games, such as PUBG, Roblox, Fortnite, etc. in your location effectively.
After conducting speed and ping testing by connecting to one of ObscuredVPN's servers, we were pleased to obtain a remarkable download speed of 75.62 Mbps and upload speed of 73.53 Mbps along with a ping rate of 70ms. Our testing revealed no lag or delays while playing the Pubg game, thus making ObscuredVPN the best free VPN for PUBG.
In addition, the free version of Obscured VPN is compatible with several operating systems, such as Windows, Android, iOS, Linux, and Mac. The free version of Obscured VPN only allows one simultaneous connection. The VPN also offers additional features such as Kill Switch, Split Tunneling, and the WireGuard protocol.
Windscribe is an excellent free VPN for gaming, providing 11 free server locations, including the USA, UK, and Hong Kong. It offers low pings and support for P2P traffic despite its data restriction. The VPN boasts robust security features, and the ability to accommodate P2P traffic, allowing you to play your favorite games such as Minecraft, Call Of Duty, CS GO, and Fortnite with a free VPN without any concerns.
Using Windscribe's smart connect feature, we tested the VPN's performance by playing Minecraft on the nearest server. Our testing outcomes were disappointingly low, measuring at only 58.79 Mbps on a 100 Mbps local connection. The upload speed was also subpar, with only 48.07 Mbps.
However, despite the low download speeds, the free version of Windscribe consistently delivered low pings, averaging between 45-51 ms. During gameplay, we did not experience any significant lag issues to report.
Moreover, Windscribe is Compatible with PS4, PS5, Xbox One/Series, Nintendo Switch, routers, and more, which enables you to play games on your favorite device. Additionally, Windscribe's ad and tracker blocking and firewall features may help improve your overall online gaming experience.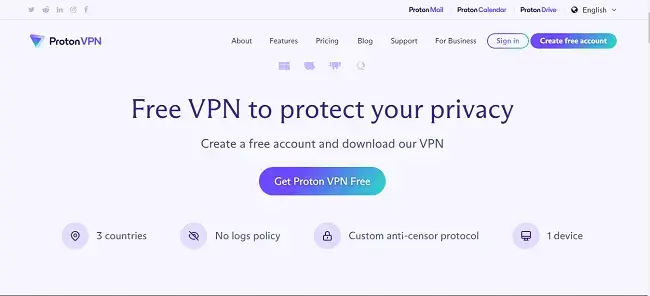 ProtonVPN is a VPN tool that provides users with a secure and reliable connection for gaming. Free gaming users can access servers in three locations, which is relatively low compared to Obscured VPN and Windscribe. With its robust security protocols, gamers can protect their privacy and data from potential online threats such as DDoS attacks and ISP throttling.
The VPN service also offers medium connection speeds and low latency, as per our speed test and performance. We connected to the Netherlands server for testing and to play Call of Duty Mobile, and received slower speeds and high ping rates overall.
However, we switched to the US server to test the speed, and this time we obtained better results of 52.37 Mbp download and 52.37 Mbp upload. During our evaluation of ProtonVPN's free version, we were initially skeptical as games like Warzone and PUBG typically consume at least 200MB of data every hour.
However, we were pleasantly surprised to find that ProtonVPN provided a smooth and lag-free gaming experience. In fact, based on our experience, we would even go so far as to call it an excellent free VPN for Warzone.
In addition, ProtonVPN provides excellent privacy features despite being free. It utilizes military-grade encryption, has a no-logs policy, includes leak protection, and even features a kill switch that we thoroughly tested. We were impressed that it never leaked our US IP address.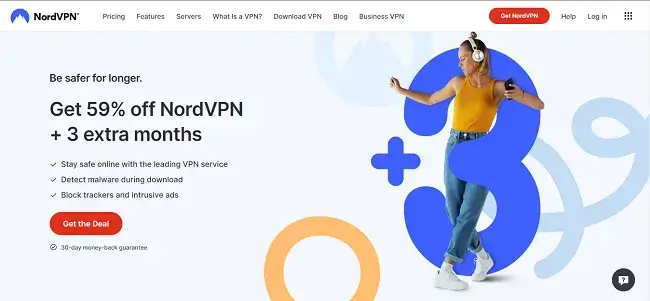 NordVPN, founded in 2012, has gained a strong reputation as one of the best VPNs for gaming due to its fast server speeds and low latency. It offers complete freedom to play online video games that may be region-locked in certain parts of the world with its vast network of 5,400 servers in over 60 countries.
Our team was impressed by NordVPN's speed testing and ping testing results when we connected to one of its servers. We achieved ultra-fast 87.74 Mbps download speed, 86.22 Mbps upload speed, and a ping rate of 40ms. We were able to play Apex Legends at a fast speed without any delays, making it a great choice for online multiplayer gaming. NordVPN's advanced technology, NordLynx, powered by WireGuard, is responsible for its blazing-fast server speeds.
Furthermore, NordVPN allows you to link up to six different devices simultaneously from a single account. It protects your online data with the help of its advanced WireGuard protocol and AES-256-GCM encryption technique. To access NordVPN on your gaming consoles such as Xbox and PlayStation, you can install it on your home router or connect it via a Windows PC where you have already installed the NordVPN app.
Get NordVPN
$3.99/month for 2 Years. 30-day money-back guarantee
Surfshark is a budget-friendly and reliable gaming VPN that is widespread in 90+ countries with super-fast 3,200+ servers. Users can unlock region-locked games, such as Soul Knight, Brawl Stars, and PUBG on their mobile and PC pretty easily.
We tested Surfshark's US server by connecting it to our mobile device to evaluate its speed and performance. We were pleasantly surprised to discover that Surfshark US provided an amazing download speed of 86.22 Mbps and an upload speed of 85.06 Mbps on a 100Mbps connection. In all of the games we tested, this service had low pings ranging from 40ms to 70ms.
Surfshark's most attractive feature is its unlimited simultaneous connections on a single subscription, which allows users to share their accounts with their friends without worrying about slowing down anyone's internet connection. We also set up Surfshark on a PlayStation and tested its performance for gaming.
In addition, Surfshark's Camouflage Mode lets you privately browse the internet without revealing that you are connected to a VPN, including to your ISP. Furthermore, Surfshark offers various features such as Kill Switch, GPS Spoofing, Clean Web, Bypasser, Multihop Connect, and Bypasser.
Get Surfshark
$2.05/month for 2 Years + 2 Months Free. 30-day money-back guarantee
ExpressVPN is a popular choice for gamers due to its fast server speeds and excellent security features. With over 3000 servers in 94 countries, ExpressVPN allows you to connect to servers all over the world and bypass geo-restrictions on online games.
During our testing, we found that ExpressVPN's speeds were consistently high, with a lightning-fast 88.67 Mbps download speed and 87.36 Mbps upload speed on a 100 Mbps connection. The ping times were also very low, ranging from 10-20 ms.
We opted to connect to servers located in the UK and Australia. During our gaming sessions on PUBG MOBILE, we were pleasantly surprised by the exceptional performance provided by ExpressVPN. ExpressVPN had little effect on our ping and latency in all situations, resulting in a seamless, uninterrupted gaming experience
ExpressVPN also offers top-notch security features, including 256-bit AES encryption, a no-logs policy, and a kill switch to protect your online privacy. Plus, with their split tunneling feature, you can encrypt gaming traffic while still accessing other online services on a local network, which can reduce the latency and high ping issues.
Furthermore, ExpressVPN can be installed on a variety of devices, including gaming consoles like Xbox and PlayStation, as well as routers for more comprehensive protection. ExpressVPN also prevents ISP throttling and helps overcome DDoS attacks effectively. Overall, ExpressVPN is a reliable and fast VPN service that is well-suited for gamers.
Are Free VPNs for Gaming Safe to Use?
Using free VPNs for gaming may not be entirely safe due to several reasons. First, free VPN providers may log and sell user data to third-party advertisers, compromising user privacy and security. Moreover, free VPNs often have limited server locations, bandwidth, and speed, leading to a slower connection and increased latency during gaming.
In addition, free VPNs may not provide the same level of encryption and security as paid VPNs, making it easier for cybercriminals to intercept sensitive information. Finally, some free VPNs may contain malware or viruses that can harm your device and put your data at risk.
It is essential to choose a reputable VPN provider that offers strong encryption, a no-logging policy, and high-speed servers. While paid VPNs may come with a cost, they offer better security and performance than free VPNs, making them a safer option for online gaming.
Privacy Risks Of Free Gaming VPNs
Free gaming VPNs may expose your personal information to privacy risks. Since these VPNs are free, they often rely on other means to generate revenue, such as logging your data and selling it to third-party advertisers. This means that your online activity may be tracked, and your data may be sold to advertisers without your consent.
In addition, free gaming VPNs may not provide the same level of security and encryption as a paid VPN. It is not necessary to make your online activity vulnerable to hackers and other cyber threats. Furthermore, some free gaming VPNs may have malware or adware embedded in their software. This is another situation that can compromise your device and expose your personal data.
Security Risks to Your Gaming with Free VPN
Free VPN for gaming can pose several security risks. First of all, free VPNs often lack the necessary security features that paid VPNs provide. These may include strong encryption protocols and secure tunneling. Potential hazards of this include online gaming sessions vulnerable to cyberattacks, such as DDoS attacks. Such attacks expose your IP address and compromise your gaming experience.
Moreover, free VPNs have been known to inject malware or other harmful software into users' devices. Naturally, this greatly compromises their security and privacy. Therefore, it is important to thoroughly research and choose a reputable free VPN service. Choose a provider that offers strong security features and protects your privacy.
How to Download a Free VPN on My Console? – Do's and Don'ts
Downloading a free VPN on your console can be a bit tricky, but it is possible. Here are some do's and don'ts to consider when downloading a free VPN on your console:
Do:
Make sure you understand what you're getting into before downloading any VPN. Research the VPN's features, reputation, and privacy policy.

Check for a free VPN that has integrated powerful encryption protocols, such as OpenVPN or IKEv2.

Look for a VPN service that strictly adheres to its no-logging policy. This ensures your privacy and safeguards your online activities and personal information.

Carefully read and follow the installation instructions provided by the VPN provider to avoid any issues.
Don't:
Using an untrusted VPN can put your personal information and data at risk. Therefore, it's essential to select a trusted VPN service provider.

Avoid downloading VPNs from unknown or unverified sources, as these may contain malware or other security risks.

Make sure you read and understand the privacy policy of any VPN you plan to download. Ignoring this can put your personal information at risk.

Never share your VPN login information with anyone, as this can put your account and data at risk.
How to Choose a Risk-Free Gaming VPN
Choosing a risk-free gaming VPN requires considering several factors.
Make sure the VPN provider has a strong privacy policy and does not collect your personal information or online activities.

Check the VPN's speed and performance to ensure it can handle gaming without significant lag or latency.

Look for a VPN with a large number of servers. The network should include multiple locations to ensure reliable access to various gaming servers.

Check for VPN features that enhance gaming performance, such as split tunneling and dedicated gaming servers.
Conclusion
Gaming can be a fun pastime, but it can quickly become frustrating. Especially when high latency issues result in delays and lags during gameplay. To combat this, get a high-quality gaming VPN, which can improve your gaming speed and reduce ping times.
By utilizing the ultra-fast servers of a VPN, you can effectively reduce in-game latency issues. Consider subscribing to our top-pick-free VPNs to experience seamless, lag-free gaming.
FAQ
Here are the most commonly asked questions related to the topics covered in this article:
Find the list of the best free VPNs for gaming:
Obscured VPN
Windscribe
ProtonVPN
NordVPN
Surfshark
ExpressVPN
Proton VPN is a completely free VPN service that allows for unlimited and safe browsing without any data caps. Unlike other free VPN services that limit your data usage, Proton VPN's free plan offers unlimited monthly data, which is particularly advantageous if you need to consume a significant amount of online data for browsing, streaming, or downloading.
Yes, VPNs can be effective for gaming, as they can improve your online gaming experience in various ways. A VPN can help reduce latency, bypass geolocation restrictions, and avoid DDoS attacks.
ProtonVPN is the best free VPN for warzone gaming as it offers unlimited speed and bandwidth.
There are several VPNs that can provide a lag-free gaming experience, but the best one for you will depend on your specific needs and location. Some of the popular VPNs for lag-free gaming include Proton VPN, Windscribe, ExpressVPN, NordVPN, Surfshark, and Obscured VPN.
Certainly, a VPN has the capability to lower your ping and enhance the performance of your network connection.
It is highly unlikely that using a no-lag VPN can get you banned, as long as the VPN service you are using is reputable and does not violate the terms of service of the game or platform you are using
Yes, with a VPN you can bypass a game ban or restrictions pretty effectively by spoofing your IP address with the help of a robust server. The server will geo-spoof your current location and let you unlock geo-blocked online gaming platforms.
It depends on the game and the specific terms of service. In general, using a VPN to play a game is not against the rules, but some game developers and publishers have policies against using VPNs. For example, some games may ban players from using a VPN to circumvent regional restrictions or to gain an unfair advantage in the game.
As per Fortnite's terms of service, if a player is caught using a VPN, they may face a ban. The duration of the ban may vary depending on the severity of the violation, and the decision is at the discretion of the game's developer, Epic Games.