Searching for the best free VPN for streaming and to make your binge-watching experience even more enjoyable and interrupted? Look no further, as we've outlined the top 6 free streaming VPNs that are worth considering for streaming purposes.
There is a wide range of free streaming VPNs available, but only a few free VPNs work with all streaming services and are capable of bypassing tough geo-restrictions. A free VPN for streaming should be chosen carefully as various streaming platforms utilizes IP detection system to block the use of VPNs and proxies. On the other hand, some VPNs have limited free servers and slow speeds, which can affect the uploading and downloading of videos.
Therefore, our team tested across 50 free VPNs and found the top 6 VPNs that help you unblock Netflix, Hulu, Prime, Disney+, and many other streaming services.
Let's begin reviewing the summary of the best free VPNs for TV streaming: The Best Free VPNs for Streaming – Quick Links
We've prepared a summary of the free streaming VPNs based on speed, performance, and reliability. Have a look below!
Obscured VPN: The overall best free VPN for Streaming. Offers 14 servers in the free version, while the paid version boasts a whopping 1200+ servers. With a variety of VPN protocols, split tunneling, and a strict no-log policy, this service is a top contender for online streaming. Additionally, round-the-clock live support is included in every standard account. 
Best Free VPN for Streaming 2023 – Detailed Analysis
We've reviewed over 100 VPNs available to find the best free VPN for streaming. These VPNs manage to deliver excellent speed and security at the best prices while the top 3 VPNs out of the 6 VPNs are completely free to sign up for.
Obscured VPN is a top-performing VPN service with a network of over 1200 servers, including 14 accessible to free users, Obscured VPN masks your IP address and enables you to access geo-restricted streaming platforms like Netflix, Prime Video, Hulu, etc., in your region effectively.
Our speed tests on the US server of ObscuredVPN showed impressive results, with a download speed of 75.62 Mbps, and an upload speed of 73.53 Mbps, respectively. We experienced no lag or delays while watching TV shows on US Netflix. Additionally, with the same server, we accessed Prime Video US titles as well.
Obscured VPN's free version is compatible with various operating systems, such as Windows, Android, iOS, Linux, and Mac. However, only one simultaneous connection is allowed in the free version. It's definitely the best free VPN for streaming Netflix and worth giving a try for all streaming enthusiasts out there.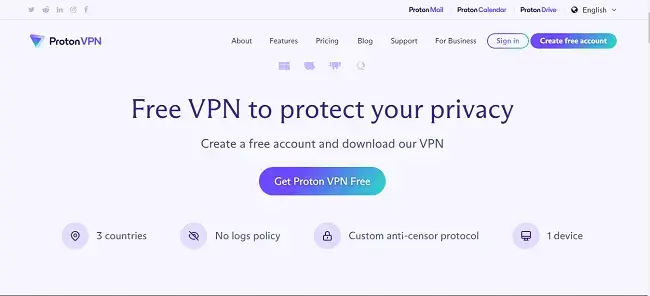 Proton VPN is a free VPN for TV streaming with around 3 different server locations available in the free version, including the US, the Netherlands, and Japan. It is unique in the sense that it doesn't impose any data cap as most free VPNs do. This feature is beneficial for streaming activities on services like Netflix, eliminating concerns about data limits.
However, the free version of Proton VPN allows only one device to be connected at a time, although it can be installed on a router, allowing streaming on all devices connected to your WiFi, including smart TVs.
During speed tests, we observed a 73.46 Mbps download speed and 71.82 Mbps upload speed; an approximate 32% reduction in speed but sufficient for HD streaming. With the help of Proton VPN, we binge-watch trending shows on Prime Video, such as Freaks and Geeks, Jury Duty, and Dead Ringers without any buffering issues.
Signing up for Proton VPN requires only an email address, but it lacks 24/7 live chat support. Additionally, users can access the free version of ProtonMail, an encrypted email service, by registering for Proton VPN.
Windscribe is a VPN service that offers 10 free servers and some pretty impressive features that improve the streaming experience. It provides access to servers in multiple countries, allowing you to bypass geo-restrictions and access content from different regions. The service also offers unlimited bandwidth, which is crucial for smooth streaming without interruptions or buffering.
Windscribe server speed testing amazed us, as we obtained amazing results in the form of 78.02 Mbps download speed and 77.59 Mbps upload speed. However, it's important to note that the streaming performance may vary depending on factors such as the server location, your internet connection speed, and the specific streaming platform you are using.
Additionally, Windscribe offers R.O.B.E.R.T., a customizable blocker that effectively safeguards against ads and malware even in the free version. The VPN is compatible with various operating systems, including Windows, Mac, Linux, Android, and iOS, and offers browser extensions for Chrome, Firefox, and Opera. The cherry on top– Windscribe free VPN can be accessed on unlimited devices simultaneously.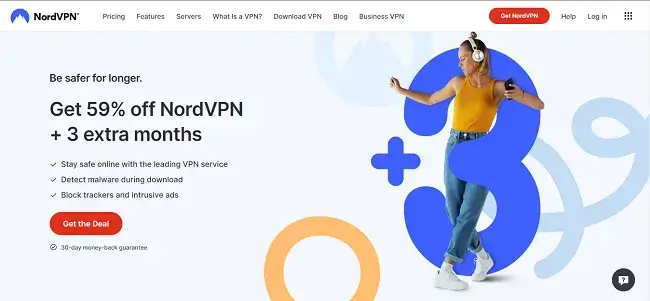 NordVPN remains highly sought-after due to its impressive high-speed servers. It boasts one of the largest networks, comprising over 5,200 servers in 60+ countries, including an extensive 1,970+ servers in the United States for unblocking US-based streaming services, such as Hulu, Netflix, HBO Max, Crunchyroll, Paramount+, Peacock TV, and Prime Video.
During our testing on a 100Mbps connection, NordVPN delivered exceptional download speeds of 88.54Mbps and upload speeds of 86.57Mbps. It outperforms its competitors, making it an ideal choice for movie enthusiasts who wish to unblock and enjoy numerous popular streaming services without interruption.
One notable advantage is its ability to connect up to six devices simultaneously, allowing for seamless multi-device usage. Furthermore, NordVPN offers a 7-day free trial for Android and iOS users, with a 30-day money-back guarantee, providing a risk-free opportunity to experience the service.
The SmartDNS of NordVPN is another great feature that lets you access the geo-restricted content on your Smart TV. However, the SmartDNS feature may not work with all of the streaming services and is supported only on specific streaming services. Additionally, features like CyberSec enhance your viewing experience by providing protection against pop-ups and ads while streaming shows and movies online.
Get NordVPN
$3.99/month for 2 Years. 30-day money-back guarantee
Surfshark has emerged as a highly capable streaming VPN, offering a combination of quality and affordability. The service has a network of 3,200 servers across 60+ countries, including 500+ servers in the United States. It excels at unblocking popular USA-based OTT services such as Hulu, Peacock TV, HBO Max, and Netflix.
Our team tested the Surfshark Los Angeles server. It delivered impressive download speeds of 84.58 Mbps and upload speeds of 83.76 Mbps when connected to the United States. To enjoy seamless streaming without buffering, simply subscribe to Surfshark VPN and connect to a suitable server that performs well in your location.
One standout feature is that Surfshark allows for unlimited simultaneous connection on a single subscription. Unlike other VPNs, there are no restrictions on the number of device connections.
In conclusion, Surfshark's obfuscation technology enables it to bypass various streaming platforms successfully. Additionally, Surfshark offers GPS Spoofing, Multihop connect, Adblocker, kill switch, and bypasser. For avid streaming enthusiasts, Surfshark is a must-have VPN.
Get Surfshark
$2.05/month for 2 Years + 2 Months Free. 30-day money-back guarantee
ExpressVPN is widely regarded as an excellent choice for streaming. It offers high-speed servers and a vast network that spans numerous countries. With over 3,000 servers in 160 locations across 94 countries, ExpressVPN allows users to access a wide range of geographically restricted content.
ExpressVPN is known for its reliable and consistent performance, so we tested it to check whether its claims are true. The output of the test gives us 88.40 Mbps download speed and 87.35 Mbps upload speed. Evidently, it is ideal for streaming services like Netflix, Hulu, Amazon Prime Video, Disney+, and more.  
ExpressVPN boasts a MediaStreamer that is specifically engineered to provide an excellent streaming experience. The feature effortlessly connects across various devices such as smart TVs, gaming consoles, and routers. In addition to its streaming capabilities, ExpressVPN prioritizes user privacy and security. It employs robust encryption protocols in addition to a strict no-logs policy. Better yet, advanced features include a kill switch, DNS leak protection, and split tunneling. 
Are Free VPNs for streaming Safe to Use?
Free VPNs for streaming can pose certain risks in terms of safety and security. While there are some trustworthy free VPN services available, it's important to be cautious. Free VPNs often have limited security features compared to their paid counterparts, leaving your data vulnerable to interception.
Moreover, many free VPN providers rely on alternative sources of revenue, such as collecting and selling user data, which raises concerns about privacy and confidentiality. Additionally, free VPNs may display intrusive advertisements or contain malware, putting your device's security at risk.
Bandwidth and speed limitations can result in slower streaming experiences and reduced video quality. It is generally recommended to opt for reputable paid VPN services that offer enhanced security features, faster speeds, and a wider range of server locations. Prioritizing the safety of your online activities and personal data is crucial, making it advisable to invest in a reliable VPN service.
Privacy Risks Of Free Streaming VPNs
Here are some of the privacy risks associated with the use of free streaming VPNs.
Data Logging and Privacy Concerns: Many free VPNs rely on alternative methods to generate revenue, such as collecting and selling user data. This can raise privacy concerns, as your personal information and browsing activities may be logged and potentially shared with third parties.
IP Leaks: Free VPNs don't implement strong encryption techniques that can lead to the exposure of your real IP address. And since streaming services utilize an IP detection system if you're caught accessing the service with your local IP, then chances are that you'll be banned from the service. Therefore, using a free VPN with strong encryption and secure servers is the best way to overcome this issue.
Security Risks to Your Streaming with Free VPN
Here are some of the security risks associated with the use of free streaming VPNs.
Limited Security: Free VPNs often have limited security features compared to their paid counterparts. They may lack advanced encryption protocols, kill switches, or DNS leak protection, which can compromise your online privacy and data security.
Bandwidth and Speed Limitations: Free VPNs often impose limitations on bandwidth, data usage, and connection speeds. This can result in slower streaming experiences, buffering, or interruptions while trying to enjoy your favorite content.
Advertisements and Malware: Free VPNs commonly display advertisements as a way to generate income. These ads can be intrusive and may even contain malicious links or malware that can compromise your device's security.
Server Restrictions: Free VPNs typically have a limited number of servers available for free users. This can lead to overcrowded servers, resulting in slower speeds and unreliable streaming performance.
To ensure a safer and more reliable streaming experience, it is generally recommended to opt for reputable paid VPN services that prioritize user privacy and security. These services often offer faster speeds, more comprehensive security features, and dedicated customer support.
How to Download a Free VPN on my Smart TV? – Do's and Don'ts
When downloading a free VPN on Smart TV, check for VPN compatibility and choose a free VPN that supports VPN installations or manual configuration setup. Not all VPN providers offer apps specifically designed for Smart TVs, so choose one that supports your TV's operating system. Now follow the step below:
Access the app store on your Smart TV
Search for the VPN app by its name using the search function.
Select the app from the search results and click "Install" or "Download" to begin the installation process.
Once the installation is complete, open the app and follow the on-screen instructions to set up the VPN on your Smart TV.
Manual Configuration: If the VPN provider does not offer a dedicated app for your Smart TV, you may need to manually configure the VPN connection. Here's a general outline:
Obtain the necessary VPN connection details from your VPN provider, such as server addresses, authentication methods, and encryption protocols.

Navigate to the network settings menu on your Smart TV.

Locate the option to set up a new network or configure network settings.

Choose the "Manual" or "Custom" setup option.

Enter the VPN connection details provided by your VPN provider, following the on-screen instructions.

Save the settings and connect to the VPN server.
How to Choose a Risk-Free Streaming VPN
Choosing a risk-free streaming VPN requires careful consideration and research. Here are some factors to consider when selecting a VPN for streaming:
Reputation and Trustworthiness: Look for VPN providers with a strong reputation for privacy, security, and transparency. Read reviews, check user feedback, and ensure the VPN has a track record of protecting user data and respecting privacy.
Security Features: Ensure that the VPN offers robust security features such as strong encryption protocols (e.g., AES-256), a strict no-logs policy, and automatic kill switch functionality. These features help safeguard your data and ensure your online activities remain private.
Streaming Performance: Check if the VPN has dedicated streaming servers or optimized servers for streaming. Look for VPNs that offer fast speeds, minimal buffering, and reliable connectivity to enhance your streaming experience.
Server Network: Consider the VPN's server network and the availability of servers in the regions where you want to access streaming content. A diverse server network with servers located in multiple countries can provide better access to geo-restricted content.
Compatibility: Ensure that the VPN is compatible with your streaming device, whether it's a computer, mobile device, gaming console, or Smart TV. Check for VPN apps or manual configuration options that support your specific device.
Conclusion
ree streaming VPNs can serve as a viable option for accessing geo-restricted content and enhancing your streaming experience. They provide an opportunity to access blocked content without requiring a financial commitment. This can be particularly useful for occasional streaming needs or for users on a tight budget.
FAQ
Find the list of the frequently asked questions related to the topic covered in this article: