Torrenting is like a treasure hunt on the internet, where you can find tons of movies, your favorite tv shows, top trending music, games, and software. But torrenting also has its dangers, such as pirates who want to steal your identity, law enforcers who want to catch you red-handed, and viruses that want to infect your device. That's why you need a VPN (virtual private network) to be your shield and sword while torrenting. Quick Links to the Best Torrent VPN Deals of 2023
We've sorted the extraordinary from the ordinary so you can download torrents securely. The following feature great performance with value for money:
A VPN is a service that encrypts and routes your internet traffic through a secure server in another location. This way, you can hide your real IP address and location from anyone who might be snooping on your online activity. A VPN also helps you bypass geo-restrictions and censorship that might prevent you from accessing certain torrent sites or content.
But not all VPNs are suitable for torrenting. Some VPNs may slow down your connection speed, leak your IP address, or keep logs of your activity. That's why you need to choose the best VPN for torrenting that meets your needs and preferences.
In this blog post, we will show you how to choose the best VPN for torrenting in 2023. We will cover the following topics:
What features to look for in a VPN for torrenting
How to compare and evaluate different VPNs for torrenting
A list of the best VPNs for torrenting with pros and cons
A conclusion with our personal recommendation
By the end of this blog post, you will have a clear idea of how to choose the best VPN for torrenting in 2023 and enjoy a safe and smooth torrenting experience.
How to Torrent Safely and Securely with a VPN: The Key Features to Consider
You surely don't want to get in trouble for simply doing something as easy and simple as torrenting. Here's what to consider while choosing a Paid VPN service for torrenting:
Speed: You want a VPN that does not slow down your connection speed or limit your bandwidth when torrenting. You also want a VPN that has a large network of servers across the world that can provide fast and reliable connections for P2P file sharing.
These are some of the features you should look for in a VPN for torrenting. By choosing a VPN that has these features, you can enjoy a safe and smooth torrenting experience.
Do I Have to Compare and Evaluate Different VPNs?
Instead of spending hours comparing different VPNs for torrenting, why not let us do the hard work for you? We are experts on this subject and we have tested and tried multiple VPNs for their download and upload speeds, security, and reliability. We have narrowed down our list to 4 VPNs that excel at torrenting and meet our high standards.
The 4 Best Torrents VPN
These VPNs were tested particularly for torrenting and they have fast speeds, strong encryption, and no-logs policies that ensure your torrenting activity is anonymous and safe. Here are the pros and cons of each VPN for torrenting:
NordVPN
The most secure VPN for torrenting. It has over 5,400 servers in 59 countries, many of which are optimized for P2P traffic. It also offers double VPN, onion over VPN, and obfuscated servers for extra layers of protection. NordVPN has a strict no-logs policy that is audited by an independent firm every year. It also has a kill switch and split tunneling features. The only downside is that it can be a bit slow on some servers.
ExpressVPN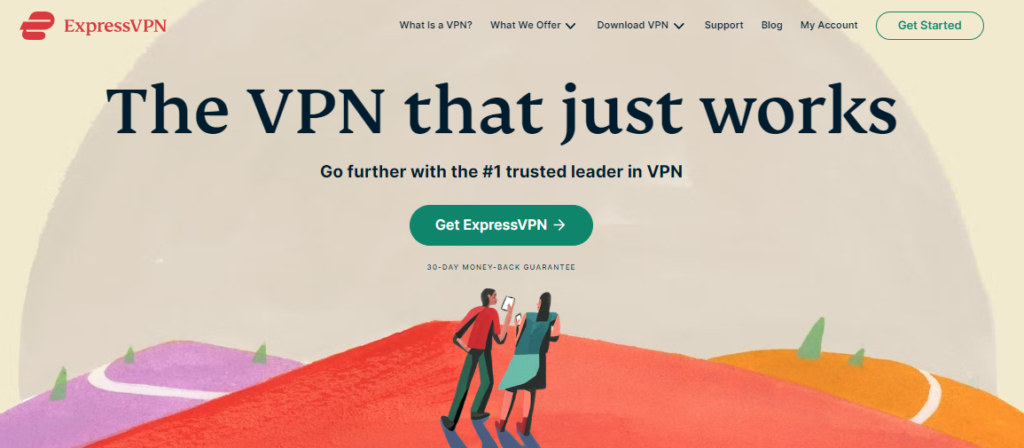 The best all-round VPN for torrenting and P2P traffic. It has over 3,000 servers in 94 countries, blazing-fast speeds, and a kill switch feature that prevents your IP address from leaking if the connection drops. It also supports split tunneling, which lets you choose which apps use the VPN and which don't. ExpressVPN is easy to use and works on all major platforms. The only downside is that it's a bit pricey compared to some other VPNs.
Surfshark
The best VPN for torrenting on multiple devices. It has over 3,200 servers in 65 countries, and it allows you to connect unlimited devices with one account. It also has fast speeds, a kill switch feature, and a no-logs policy. Surfshark supports P2P traffic on all its servers and offers split tunneling, multi-hop, and camouflage modes for extra privacy. The only downside is that it doesn't have a free trial or a money-back guarantee
Conclusion
It's better to be safe than to be sorry; torrenting is tricky and should be done in a certain way to not put your online activity at risk. A good, paid VPN is a necessity for you if you torrent movies, TV series, and even music. This is because the content available on torrent sites is copyrighted and downloading it without permission is illegal.
Another reason is that your online activity can be tracked by your internet service provider (ISP) or other parties who may monitor the torrent network. This can expose you to legal troubles, bandwidth throttling, or malware attacks. To avoid these risks, you need to use a VPN when torrenting. By using a VPN, you can torrent safely and anonymously without worrying about any prying eyes.