We have all grown up watching movies about magically hacking into a computer of some grand organization and changing the world. The ones all of us liked are The Matrix (1999-2003) series, The Girl with a Dragon Tattoo (2011), I, Robot (2004), Wall-E (2008) and so many more.
Become a Secure Member of the New Tech World!
What about animations and TV shows? Mr. Robot (2015-present), the blockbuster American TV show, is all about cybersecurity and hackers while Ghost in the Shell (1995) and Appleseed Ex Machina (2007) were such mind blowing and hit animations that their main idea made it Hollywood by the name Ex Machina (2015).
How Safe Are You?
Now this is not just something happening in the outside fantasy world. What if I tell you that every second, 18 adults become a victim of cybercrime? That makes it a total of 1.5 million people every single day! The math is simple. You could be next!
Also Read: Best Paid Android VPN Apps
Save Yourself with These Free VPN for Android Phones
The more we become vulnerable to cybercriminals, the more VPN services come into action. Here are some free VPN for Android users all around the world.
Hotspot Shield Free VPN Proxy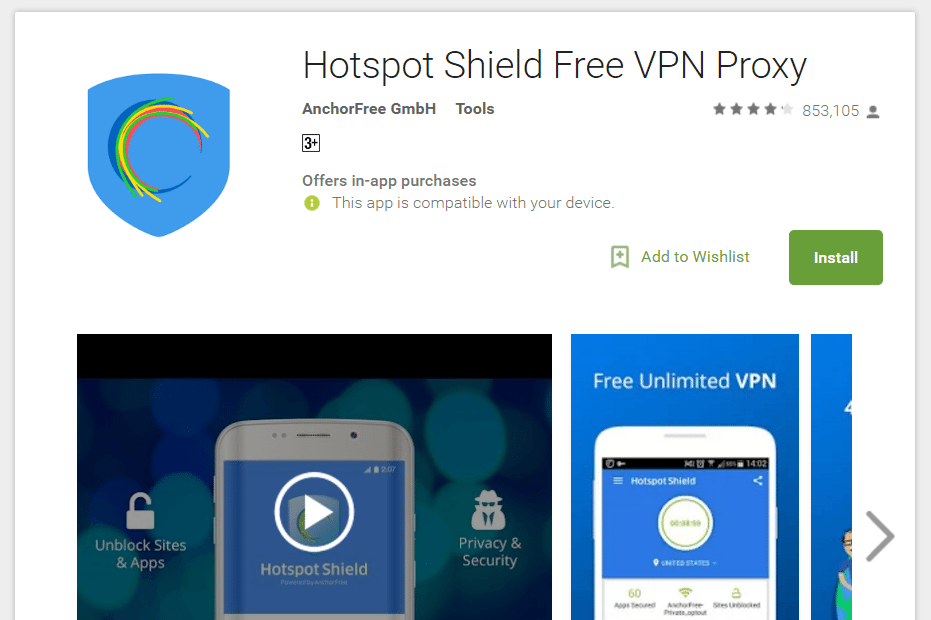 With 850,000+ downloads of this app, it is rated 4.2/5 stars on Google Play. With the following features, it will surely make it to your home screen:
Powerful encryption (to keep the spies out of your phone)
Fast speed
Servers available in 20+ countries (that means more countries' geo-restricted sites unlocked)
Secureline VPN
Who has not heard of Avast? They have been protecting our PCs since ages and now they are here with another solution to our Android problems namely Secureline VPN! Developed by the best and rated 4.1/5 stars on Google Play, it provides you the advantages given below:
Prevents malware and spyware on your phone
World-class customer care services
Widget on your dashboard for one-click protection
Hola Free VPN
Hole Free is one of the few free VPN Android services that are 100% free as they use commercials for business but nevertheless, it is an exceptional app with 4.4/5 stars on Google Play and 492,000+ downloads.
Easiest way to switch between country servers
User friendly
Simple installation
Netflix-friendly
Amazing speed
SuperVPN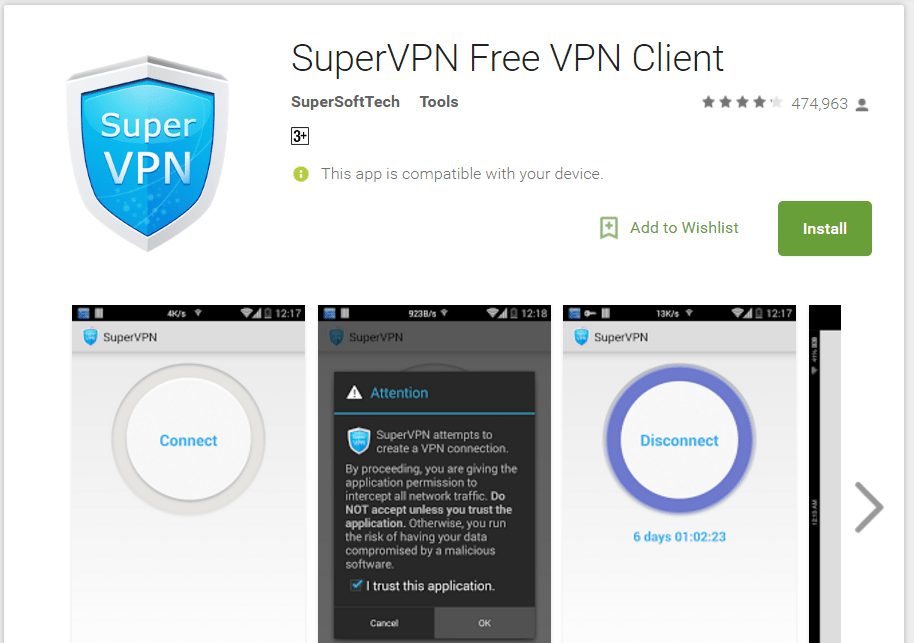 SuperVPN gets a lot of traffic thanks to its super speed and trustworthy encryption of internet usage. Trust and speed, what else do we need? Take a look at its perks below:
No need to register or change settings
Top speed
Reliable connections to servers
Unlimited bandwidth
CyberGhost
Even though it uses advertisement as a price for being free to users, it has absolute encryption policies that promise transparency on net without compromising your identity or location.
No logs and transparency ensured
Servers in 29 countries
After one week of free connection, the session expires after 3 hours (though you can reconnect immediately)
FlashVPN
As the name and the insignia of the app suggests, this VPN is all about providing the speed to that of the DC comic character (figuratively speaking). FlashVPN is about facilitating the user with all of their needs.
End to end tunneled encryption
Speedy connection
Servers all round the world
No connection time limitation
No logs kept
Why Do You Need a VPN on Your Android?
If any of you have had the chance of watching Ex Machina (2015), you would know what this is all about. If not, then you better do it right now to realize how you can end up being trapped by the malicious and cunning minds in the simplest of your actions.
Unblocks geo-restricted contents: By encrypting your internet usage and traffic, VPNS literally poof you off the 'world wide web' and relocate you in a country of your choice, that helps you get the taste of being an internet user in another country just by sitting in your own bed!
Facilitates you by hiding your IP address and identity: To deliver your personal security, privacy and confidentiality, VPN play the vital role of guarding you as long as you are connected through them.
FREE and UNLIMITED: All the above-mentioned VPN services do not cost a dime! Just for adding another layer of security, you can upgrade to their premium packages to get guaranteed privacy, your long-lost right!
VPN performances are at their best: They deliver what they promise; the speed, the unbreakable connection and unhackable execution of their programs.
Worldwide VPN Coverage: Android VPN services recommended above bring you guaranteed unbreachable connections through their numerous servers in each country located all around the world.
No connection logs/data usage history kept: What is the purpose of putting in the extra effort if a VPN fails to delete and wipe off your history of internet usage so that ISPs and government cannot retrieve it? Hence, that is one of the most important missions that VPNs have to accomplish at any cost.
Best customer support at your service: Although all the setups, installations and general usage of VPN apps are outstandingly simple and easy, in case any query or questions pop up, you can use their customer services to shoot in all that is on your mind. That is what they are here for!
Free Android VPN services have a lot to offer to you for your security and peace of life. They are just one search and click away. Download any one of them to lead a private life just like you deserve. Safety and satisfaction shall be guaranteed!