Should You Use a VPN in Canada?
Well, definitely yes. However, unfortunately, not many Canadians are aware of the number of threats they are exposed to. Being an immensely digitalized country and one of the fewest countries that believe free WiFi is a basic human necessity, Canada is filled with the 'ignorance is a bliss' air! However, being a technophile country doesn't mean it is free of risks.
In recent statistics, 97% of Canada's firms are at risk of cyber-heist or malware attacks by cybercriminals.
The more a place or business has internet-users, the more it is at risk. In the latest reports by McAfee, it was reported that out of $400 billion loss due to cybercrime, Canada suffered $3 billion alone. So, in order to save yourself from these cyber attacks, individuals and organizations must have a safeguard system that ensures no one can spy on their systems let alone hack them. And there is nothing better than a VPN to accommodate internet users with a safeguard.
Why You Didn't Know About VPN Canada
Canada has actually the least amount of censored websites compared to other countries in the entire world as long as it does not include child pornography.
This is the sole reason the majority of Canadians have never been forced to think what and how to use a Canada VPN service since they have never felt the need to do so. However, as earlier said, if not for avoiding geo-restriction, Canadians are not usually aware of the hacking and tracking dangers they could be prey to.
Perks of Using a VPN with Servers in Canada
Usually, most of the VPN users connect with an IP from common zones like the USA or the UK. Users seldom think that a Canadian IP can run faster than any other.
How can this be? Well, as a matter of fact, and as earlier discussed, only because geo-restriction is not an issue in Canada, many Canadians don't use a VPN, unfortunately.
As a consequence, Canada VPN servers have less traffic so they can give optimum speed. So, even if you use a VPN in the US or elsewhere, Canadian servers can give a boom to your Internet speed too. By the way, all the VPN providers on the below-mentioned list have Canadian servers, so you know what extra perk do they have now.
Is Canada Under Surveillance?
Unfortunately, yes. The C-51 Anti-terror bill has clauses that give power to the government to peek into and spy on every Canadian's online activities. Canada, being a member of the "5 eyes" (the list of countries that surveil people's online activities that include: Austrailia, Canada, Newzealand, USA, and UK), it has to share all its data with the other four countries.
That means you are under surveillance of more than just your country and your personal information is slowly getting public. The most you can do to put a stop to this is not to use public WiFis for banking transactions that may lead to hacking incidents. Secondly, and more importantly, use a Canadian VPN even when using a normal connection.
Best Canada VPN Service for 2023
Finding the best Canada VPN can be a daunting and insurmountable task that is too costly to testify if one starts checking 480+ VPN services by buying them all. As it is a matter of trust, security, and protection, here is a list of Best Canada VPN with their distinctive features to select what best suits your needs.
NordVPN – The Strongest VPN of All!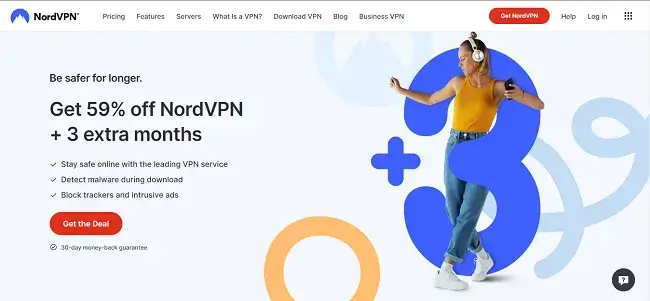 If you are really tensed about being tracked down by the government or if you want to have something really sound and reliable that will help you be at ease without even worrying on this side, NordVPN is there to provide a double sheet of protection.
They will escort you from the place you use the internet to the place you want to be at. The double encryption compromises optimum speed that it can provide but if double encryption is not chosen, it is as good as any of the above mentioned Canadian VPN services.
Not only can you link 6 devices together with the same account but their software is compatible with 6 of the most popular operating systems.
Their kill switch and P2P settings make them one of the best Canadian VPNs. Along with a 30-day return-money policy, NordVPN makes sure you chose them only if you liked them which you eventually will, but incase, if you are still not convinced then, let me add "NordVPN has more than 5092+ servers in 60+ countries.
Get the NordVPN Deal
$3.99/month for 2 Years. 30-day money-back guarantee
ExpressVPN
ExpressVPN comes in a great package. It is a VPN that makes the dream of completely removing your tracks of internet activity come true.
For all those who want to completely wipe away the trails of your internet usage that even Sherlock Holmes of IT cannot find the clues for, ExpressVPN is the fail-proof answer.
The pros of using ExpressVPN are best streaming speeds, absolutely marvelous customer care, easy and quick to install and the ability to use it over three devices.
They provide over 3000+ servers worldwide for you to match to powerful VPN protocols. It's the best Canadian VPN because it opens up access to other continents which have banned content for Canada due to copyright issues.
Since ExpressVPN serves 94+ countries, their server network is vast enough to ensure virtually no content remains restricted for you. They've got top-notch servers in more than 148+ cities worldwide for your convenience.
Get ExpressVPN
$6.67/month for 15 Months