UFO VPN has gained significant popularity as a Hong Kong-based VPN provider, boasting a massive user base of over 20 million individuals worldwide. One of its notable features is the extensive network, consisting of over 2,000 servers spread across 50 countries.
Additionally, UFO VPN prides itself on bypassing geo-restrictions on popular streaming platforms such as Netflix, Disney Plus, and BBC iPlayer. To ensure user privacy and security, the VPN includes a kill switch feature that automatically blocks unprotected internet traffic in case of a VPN connection drop.
Headquartered in Hong Kong, UFO VPN has managed to attract a large and diverse user base globally, providing them with a broad range of secure and anonymous browsing options.
We believe you are here to know a little more about this member of the virtual private network family before using it as your secret weapon, right? Well, let's help you with everything we have observed after using this VPN personally. Grab your popcorn because it's going to be a long adventure!
Features and Assessment
UFO VPN stands out from the competition with its unique features and the ability to access Netflix content even in countries where it is restricted, making it a rare gem in the VPN market.
As claimed by the company, UFO VPN stands out as a top-tier IP server provider, providing comprehensive internet security. With an impressive network of 200 servers, it offers reliable browsing protection. Notably, this provider also offers a free security service, making it one of the most affordable options in the market with reasonably priced plans.
Here are some features that enable it to compete with the best VPN providers in the US.
Usability
UFO VPN offers a straightforward and intuitive user interface, making it accessible to all skill levels. The installation and download process is quick and hassle-free, allowing users to quickly get started. It is a user-friendly VPN option suitable for individuals new to the world of VPN services.
Moreover, UFO VPN offers a convenient feature for effortlessly accessing content from different countries. Users can select the desired country's IP server, making it user-friendly. Its affordability and free option make it an attractive choice. At the same time, its speedy performance has garnered positive feedback from users, elevating its standing in the market.
Availability
UFO VPN is accessible in over 30 countries, encompassing a wide range of locations such as the United Kingdom, Netherlands, Austria, Australia, United States, China, Canada, Chile, Colombia, El Salvador, France, Germany, Hong Kong, Philippines, Slovenia, Spain, U.S. Virgin Islands, and Italy.
Regarding server availability, UFO VPN claims to offer a diverse selection based on the country's location, typically providing over 200 servers. This broad server network enables users to easily access content from various countries. Additionally, users can choose their preferred language when enjoying the services offered by any server.
Functionality
UFO VPN offers compatibility with a wide range of devices, including iOS, Android, Windows, Linux, and Apple devices. The iOS and Android applications are designed to be user-friendly and straightforward, providing guaranteed speed and comprehensive security. Additionally, these applications support multiple languages, enhancing the user experience and accessibility.
With a visually appealing interface, the application provides a user-friendly experience, allowing users to connect to the IP server effortlessly. The operation on both devices is commendable, ensuring a seamless and reliable performance.
To select an IP, users can simply navigate to the "intelligent location" feature, which enables them to connect to the nearest server effortlessly. Once connected, they can enjoy unrestricted and secure internet browsing. Obtaining the application is as easy as visiting the respective device's App Store, where it can be swiftly downloaded and installed without complications.
Services
UFO VPN provides an unrestricted web service, enabling users to freely browse the internet and access content without limitations. It allows users to enjoy blocked content and bypass restrictions effectively.
Moreover, this provider offers a security verification service for your web portal and connected Wi-Fi networks. Additionally, their utilization of high-speed IP servers ensures blazing-fast internet browsing. Users can stream videos and movies seamlessly while connected to UFO VPN's IP servers.
Security & Privacy
Addressing the prevalent issue of internet insecurity, this provider stands out as one of the most secure IP servers, employing advanced technology to guarantee user safety and protection while browsing the web.
UFO VPN utilizes encryption technology to safeguard internet traffic, ensuring the privacy and security of user data. The service effectively conceals the user's IP address, preventing the disclosure of their location and granting them anonymity while using the free application.
UFO VPN Logs: Data Breach and Privacy Concerns
According to a report by Comparitech in 2020, a publicly accessible log containing millions of records on UFO VPN users was discovered. The logs had a range of information, such as the IP addresses of both user devices and VPN servers, timestamps of connections, geolocation tags, device details, session secrets, and tokens.
Furthermore, the databases reportedly contained passwords in clear text, potentially exposing user accounts to hijacking if accessed by unauthorized individuals. While UFO VPN denied these allegations, a researcher confirmed the issue by setting a password for their personal account and observing its appearance in the exposed database.
UFO VPN clarified to Comparitech that most of the data discovered were anonymized, making it difficult to identify individual users. Although this may not be as severe as retaining a complete browsing history associated with user accounts, it still involves a form of session logging that was not explicitly disclosed in the privacy policy.
Security Score
Despite the policy's assertion that UFO VPN does not collect or log any VPN traffic or usage, concerns arise as the collection of device identifiers, connection timestamps, IP addresses, and server information can be seen as forms of usage logging, contradicting the stated claim.
The absence of UFO VPN's app on Google Play raises questions about whether the abovementioned incident is connected to it. Furthermore, a new version of UFO VPN is available on a different website, but the company has remained silent on the matter. Notably, the company's Facebook post dates back to January 2021, and its blog and Twitter accounts have been inactive since 2020, with no visible response addressing the issue.
The original version of UFO VPN is not accessible on Google Play. Android users must opt for manual installation to use the application.
Cost & Subscription
UFO VPN offers a monthly subscription at $11.99, slightly higher compared to other providers. While they do provide the option for a one-week subscription, priced at $7.99, it may not be the most cost-effective choice. On the other hand, the annual plan offers better value, amounting to an effective cost of $4.17 per month.
The two-year plan stands out as the most affordable option, priced at only $2.91 per month. While a few competitors are offering slightly cheaper deals, such as Ivacy, with a two-year contract at $2.45 per month (including free 2TB cloud storage), and Private Internet Access offering a three-year plan for just $2.19 per month.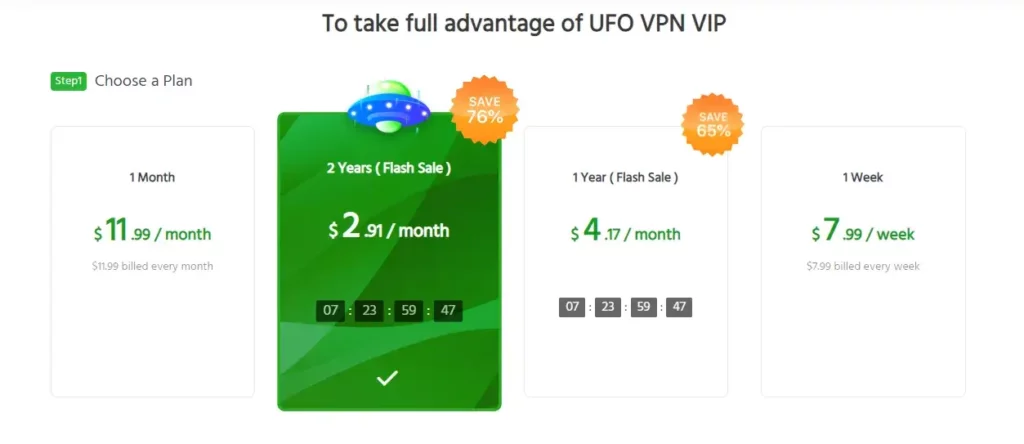 While the website mentions PayPal support, it was not available during the review. Payments are currently limited to credit cards and Bitcoin (via Coinspayments).
The website advertises a 30-day money-back guarantee; however, upon closer examination of the terms and conditions, it is revealed that the refund period is actually limited to 7 days.
UFO VPN's accounts are configured for automatic renewal, but customers can manage it through FasterPay, the payment provider. Upon signing up, a cancellation link was immediately sent via email, which we later used to terminate our account effortlessly.
UFO VPN offers a restricted free version with slower servers and a limited number of locations. However, during our testing, we encountered difficulties installing it. You can try downloading it from the Android Basic link on the website, but remember that it cannot be found on Google Play and requires manual APK file installation.
Data Protection & Privacy Policy
Considering the data breach incident, viewing UFO VPN as a reliable option for privacy becomes challenging. Besides the concern of contradicting its own logging policy, the reported storage of user passwords in plain text raises further doubts. This raises questions about potential security vulnerabilities and compromises in other service areas.
Despite the reservations, we explored the rest of the website, driven by our commitment to thorough evaluation. Among the website's features, the Protocols page caught our attention, as we hoped it would provide comprehensive and reassuring explanations about the cutting-edge protocols supported by UFO VPN.
To our disappointment, the Protocols page offered little clarity. It simply stated that UFO VPN offers four protocols, referred to as 'Protocol A,' 'Protocol B,' 'Protocol C,' and 'Protocol D.'
The Protocols page offers no such insights for those seeking in-depth information on ciphers or critical exchange. Instead, it vaguely describes each protocol's purpose, stating that 'Protocol A' prioritizes speed, 'Protocol B' is optimized for video calls, and so forth, without providing any privacy-related assessment or guidance.
Setup & Configuration
The initial process of signing up with UFO VPN appeared easy. The payment transaction completed smoothly with a confirmation email from the payment provider verifying the successful subscription setup.
There was a delay in receiving the account details from the company, but after approximately 30 minutes, an email titled 'UFO unregister pay success email' arrived, providing us with the account password. The email also contained download links, with the iOS URL functioning correctly. In contrast, the Android link directed us to the static Google Play page. This raised concerns about the recent lack of attention given to UFO VPN.
Fortunately, locating the download links on the website was trouble-free, allowing us to commence testing within minutes.
Streaming Performance & Compatibility
When you visit the UFO VPN website, you'll notice the headline 'Unblock Any Website.' Is this just marketing hype, or does the service live up to its claim?
UFO VPN successfully granted us access to BBC iPlayer using all three of its UK server locations.
Regrettably, UFO VPN was unable to bypass the restrictions of US Netflix. We encountered difficulties streaming US content despite utilizing a dedicated Netflix server in Los Angeles. Similarly, the Disney Plus server in Japan also fell short, as our attempts to access the Disney Plus site resulted in a straightforward message stating that it was unavailable in our location.
Our final test with Amazon Prime Video proved unsuccessful as well. The platform detected our VPN usage promptly. This triggered the familiar error message that our device is connected to a VPN or proxy service. It insisted on disabling the VPN and retrying the connection.
Based on our tests, if your goal is to "unblock any website, there may be better solutions than UFO VPN. Other providers like ExpressVPN and Hide. As observed in their recent reviews, I, Private Internet Access, ProtonVPN, and Surfshark have consistently demonstrated superior performance in unblocking content.
Speed & Performance Evaluation
We conduct comprehensive tests from US and UK locations to assess VPN speeds using various performance testing platforms. These included SpeedTest, TestMy.net, and Netflix's Fast.com. We meticulously measure download speeds at least five times per site, evaluate multiple protocols, and repeat the process during evening sessions to ensure complete and accurate results.
When using UFO VPN's Mode A protocol, we observed commendable US download speeds ranging from 180-290Mbps. Impressively, the speeds were even higher in the UK, reaching 410-420Mbps. While these speeds surpass many competitors using OpenVPN, they still fall short compared to the exceptional performance of WireGuard-based connections offered by providers like CyberGhost, IPVanish, and NordVPN, which achieved speeds of 700Mbps and beyond.
It's worth acknowledging that UFO VPN's Mode A protocol may play a role in its decent performance results. However, without full knowledge of the protocol's inner workings, it's impossible to determine whether the comparisons are entirely accurate. It's possible that the service achieves faster speeds by compromising on security measures. They may include encryption, which could put users at risk.
Support & Assistance
UFO VPN's support section on the website offers a limited FAQ. Minimal questions and brief details lack proper answers.
To set up UFO VPN on your Android device, check "How to start up UFO VPN on my Android?". However, the report comprises solely a single, unedited sentence. It explains how there is a default popup window that prompts the user for permission. Clicking yes adds the VPN configuration to their device upon their first connection to UFO VPN.
The search box on the website proved unhelpful as it failed to provide any relevant results. Even when we entered keywords like "protocol," "speed," and "encryption."
The app features a Feedback box for users to ask questions, promising a response within 24 working hours. However, our inquiry about the missing locations in the Windows app went unanswered even after two weeks, highlighting the need for more responsiveness from UFO VPN's support team.
UFO VPN lacks live chat support but provides a Support email address. However, we ultimately gave up after waiting for 10 days without receiving a response. If prompt and reliable customer service is your priority, this VPN may not meet your expectations.
Here's Our Take: Find Something Better!
Despite decent speeds, UFO VPN raises several concerns that make it difficult to overlook. The logging controversy and inadequate customer support are a start. There are discrepancies between claimed and actual server locations and a marked absence from Google Play Store. The lack of recent online activity isn't common in a flourishing brand.
Moreover, undisclosed and non-standard protocols add to the underwhelming unblocking capabilities. Multiple websites bring the final contribution to a questionable overall experience with the service.
For a top-notch VPN experience with reliable customer support, there are better options. Surfshark and CyberGhost offer affordable prices, while ExpressVPN and ProtonVPN provide comprehensive support and excellent streaming performance. If speed is your priority, NordVPN and IPVanish are worth exploring.
Instead of sticking with UFO VPN, we recommend exploring these alternatives for a more satisfying and reliable long-term VPN solution.