Are you tired of constantly worrying about your online privacy and security? Do you want a reliable solution that won't break the bank? Enter Obscured VPN – the low-priced VPN that delivers high-quality services.
With its military-grade encryption, user-friendly interface, and impressive selection of servers, Obscured VPN is quickly making a name for itself in the crowded VPN market. But can it really live up to the hype? Find out in this Obscured VPN Review. Obscured VPN – Best VPN Deal
Here's a summary of Obscured VPN's pricing plans.
| Package | Monthly Price | Billed Amount | Money-back Guarantee |
| --- | --- | --- | --- |
| 1-Month | $9.99/mo | $9.99 | 30-day |
| 6-Month | $6.49/mo | $38.94 | 30-day |
| 1-Year | $3.75/mo | $44.99 | 30-day |
This newly launched VPN service provider has some of the most affordable plans available. And yes, while it does seem too good to be true— it is actually all that it claims to be. For the record, we're personally in love with its annual plan.
The 12-month plan saves you 63% of the monthly price without compromising on quality. No wonder why we call it the best Obscured VPN deal!
Also, ObscuredVPN dedicated IP add-on is available if you prefer having a unique address to yourself every time you access the web. Oh no, we never rebuke an extra blanket of safety precaution!
Obscured VPN Review
When it comes to a VPN, we search for strong encryption that promises security, strict no-log policies that guarantee privacy, and fast speeds that offer the best gaming and streaming experience. ObscuredVPN had us mystified with its exceptional features.
Let us break down our take on this VPN after conducting numerous personal testing and email exchanges with their support staff.
Speed and Performance
Obscured VPN allows for lightning-fast speeds due to the well-known WireGuard protocol. The Wireguard protocol offers a fantastic balance of speed and security.
Other than that, Obscured VPN offers various protocols, including the IKEv2, UDP, TCP, L2TP, and PPTP. If speed is what you're looking for, we advise you to choose IKEv2 or the UDP protocol.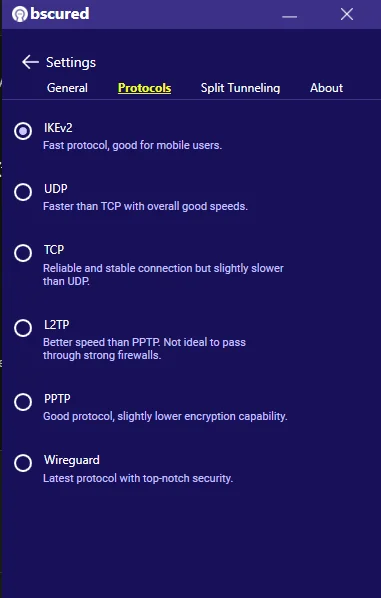 Although there may be occasional speed dips in some regions, this shouldn't have a substantial impact on the functioning of your device. Make sure to connect to servers that are close to your geographical location if you want the fastest speeds, though.
Suffice to say, even a match between ObscuredVPN vs nordvpn could come neck-to-neck in terms of speed. It's true, Obscured might even give NordVPN a run for its money!
To gain a clearer idea, let's zoom in on the results of the speed test. Take note that we tested all servers on a baseline connection of 100 Mbps.
United States Server
We got blazing-fast speeds on the Salt Lake City, US server as we browsed, steamed, and played MMORPG games relentlessly. Here was the average speed we got with the US server as we watched "The Last Kingdom: Seven Kings Must Die" on Netflix.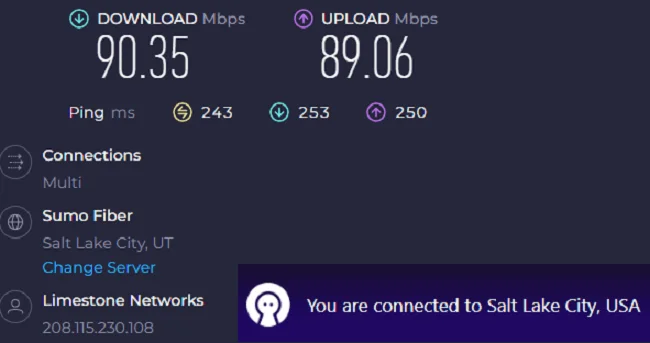 We also went ahead and tried torrenting on the US server, and found that the upload rate was commendable. The P2P sharing went flawlessly, with a reliable connection throughout.
Switzerland Server
Switzerland is the finest nation to connect a VPN for anonymity. Obscured VPN gives average speeds of 70.93 Mbps download and 67.19 Mbps upload speed. We were able to conduct transactions and purchases without a hassle. We could also browse the internet with complete freedom.
United Kingdom Server
The UK server also worked fast and securely with amazing speeds and minimum latency. We watched several Hulu originals and Amazon Prime's "Greek Salad" with little to no issues or buffering.
Canada Server
We experienced brilliant speeds connecting to the Canadian server location. The connection was stable throughout and upon testing for DNS leaks, we couldn't find any. Thus, with peace of mind and complete free will, we went on an internet rampage like never before.
HBO Max was a joyride and Fortnite was a game-changer when we played it with the Canadian server connected. We were astonished to discover there were no lags, minimum downtimes, and fast internet speeds.
Device Compatibility
Obscured VPN apps are available on Google Play, Apple App Store, and several other application stores for Android devices, iOS devices, and desktops.
You may get the ObscuredVPN apk file and easily download the VPN app on your Android devices manually in just a few steps.
Users must install the Obscured VPN app and access its digital portal by successfully performing an ObscuredVPN login using their credentials. After that, they may choose a location and hit "Connect" to reach the pinnacle of security on the web.
Privacy and Security
Obscured VPN employs top-of-the-line encryption methods to ensure that all online activities remain private and secure. Using the AES-256 encryption algorithm, which is military-grade, all data transferred through Obscured VPN is scrambled and made unintelligible to anyone attempting to intercept it.
Moreover, the service offers a split tunneling option, allowing users to choose which applications or websites are routed through the VPN and which ones aren't. This feature is particularly useful for users who want to access geo-restricted content while keeping their other online activities private.
In addition, Obscured VPN has a kill switch feature that immediately terminates all internet traffic if the VPN connection is disrupted. This ensures that no sensitive information is leaked if the VPN connection is lost, protecting users from potential attacks.
Obscured VPN also operates a strict no-logging policy, meaning that it does not keep any records of users' online activities or personal information. This is a crucial factor in maintaining online privacy and security, as it prevents any third party from accessing users' data.
Furthermore, Obscured VPN provides DNS protection, which prevents any potential DNS leaks and ensures that users' online activities remain anonymous. It also supports various protocols, including OpenVPN, L2TP/IPSec, and PPTP, allowing users to choose the protocol that best suits their needs.
Obscured VPN is definitely worth considering if you prioritize online privacy and security.
Plans and Pricing
The listed prices are affordable and have high value for money. In the best Obscured VPN deal, for instance, you are paying many times less than you would for many other high-quality VPN providers.
Furthermore, the service has a limit of 7 simultaneous connections. It's important to keep in mind that NordVPN only enables 6 connections for $3.29/month, whereas Obscured VPN does more for $3.75/month in its annual plan.
Also, every plan offers a 30-day money-back guarantee in the first month of its use.
What Can You Do with Obscured VPN?
Turns out, a lot! Here are a few of the many benefits offered to its users:
IP Masking: Obscured VPN can also mask your IP address, making it appear as if you are accessing the internet from a different location. This can be useful if you want to access content or websites that are blocked in your country. For that, you need to do an ObscuredVPN download and then connect with your desired server location.

Streaming: With Obscured VPN, you can access geo-restricted content and stream your favorite TV shows, movies, and sports events from anywhere in the world. The VPN encrypts your internet connection, making it difficult for ISPs, hackers, and other third-party entities to monitor your online activities and throttle your bandwidth.

P2P File Sharing: If you engage in P2P file sharing, Obscured VPN can protect your privacy and anonymity. The VPN hides your real IP address and encrypts your traffic, making it difficult for others to see what you are downloading or sharing.
Payment Methods
Obscured VPN offers multiple payment methods to its users. These payment options include:
Credit Cards: Mastercard, Visa, Discover, American Express, Diners Club, JCB, OneCard, Delta, Hipercard, and International.

PayPal: PayPal, and Apple Pay is also accepted by Apple device users.

Other payment methods: UnionPay, Pix, Qiwi Wallet, Yandex Money, WebMoney, SOFORT, Giropay, iDEAL, and Sepa Direct Debit.
Obscured VPN – Free VPN
Obscured VPN does not offer a free plan. However, it offers a free trial to its first-time Windows users, allowing them to test the VPN's features and services before committing to a subscription. The free trial period will last for 14 days for Windows users.
Please note that an ObscuredVPN free trial is not available for Android and iOS users as of yet. But they do have a free version that offers three server locations.
Once the free trial period is over, you will need to subscribe to Obscured VPN to continue using the VPN service. If you decide not to continue with Obscured VPN, you can cancel anytime within 2 weeks or before your 4GB data cap runs out, whichever comes first.
Perchance you decide to continue using Obscured VPN's services, you'll also receive a 30-day money back guarantee. The 30-day money-back guarantee is available to every Obscured VPN user, without discrimination. 
So, if you cancel the subscription anytime within the first month, you'll get a full refund, which is another way to use Obscured VPN for free. 
Pro Tip: Free VPNs often come with limitations and may not offer the same level of security and privacy as a paid VPN service. Therefore, it's recommended to use a reputable and reliable VPN provider like Obscured VPN for maximum protection and anonymity online.
Conclusion
So now you know why Obscured is the VPN of choice for savvy internet users. Whether you're a frequent traveler, a remote worker, or simply someone who values online privacy, Obscured VPN promises to deliver.
And no, it's not made of little white lies or broken promises. This allows us to pass the bill— Obscured really is a high-quality, low-priced VPN.
---
FAQ
Got any questions? Let us help with quick answers.
Yes, Obscured VPN is safe to use. The VPN encrypts your internet connection and masks your IP address, making it difficult for third-party entities to monitor your online activities. Obscured also follows a strict no-logging policy.
Obscured VPN offers a free trial period for users to test the VPN's features and services. However, after the free trial period is over, you will need to subscribe to a paid plan to continue using the VPN service.
Yes, Obscured VPN is legal. However, it's important to note that the legality of VPNs may vary depending on the country you are in and the activities you are using the VPN for. For instance, using a VPN to engage in illegal activities such as hacking or copyright infringement is not legal.