Goose VPN's security is questionable as it failed to protect my DNS data, resulting in my real IP being exposed and my true location visible to websites and others. This defeats the purpose of using a VPN for privacy and anonymity.
Considering this major flaw, I strongly advise against using Goose VPN and suggest exploring other top VPN options in 2023, such as ExpressVPN and Private Internet Access (PIA). GooseVPN Best VPN Deals
Here are the best price plans the team at GooseVPN has to offer:
| Package | Pricing | Billed Amount |
| --- | --- | --- |
| 1-Month | $10.88/month | $10.88 |
| 1-Year | $5.44/month | $65.24 (billed annually) |
| Lifetime (is for 5-years) | $107.86 | $107.86 (per device connection) |
Leak protection is not the only concern with Goose VPN. It has a limited server network primarily focused on Europe, lacks advanced security features like perfect forward secrecy and RAM-only servers, and does not offer additional features like split-tunneling, ad blockers, or multi-hop servers. Furthermore, it is not suitable for torrenting due to the risk of IP leaks.
Additionally, Goose VPN does not work in countries with strict internet restrictions, lacks live chat support, and the 30-day money-back guarantee is conditional on not exceeding 100 MB of data during the trial period, which is insufficient for even 30 minutes of browsing.
While Goose VPN does offer some positive aspects, such as 256-bit AES encryption, a strict no-logs policy, fast speeds, compatibility with various streaming sites, and unlimited connections, these advantages are overshadowed by the numerous drawbacks associated with the service.
What is Goose VPN? Definition
GOOSE VPN is a VPN provider headquartered in the Netherlands, offering various enticing features. One of the standout advantages is connecting an unlimited number of devices, providing flexibility and convenience for users.
Moreover, their commitment to customer support shines through with round-the-clock assistance available in multiple languages, including English, Dutch, French, German, Portuguese, Turkish, and Moroccan. To top it off, GOOSE VPN offers a generous 30-day money-back guarantee, allowing users to test their services without any risk.
When it comes to security, GOOSE VPN doesn't disappoint. With robust encryption protocols in place, user privacy is safeguarded effectively. Their strict no-logs policy ensures that your online activities remain confidential and private.
With its user-friendly app, Goose VPN offers compatibility with major operating systems, providing easy accessibility for a diverse range of users. Additionally, GOOSE VPN extends its services to Android TVs and routers, enabling seamless integration across devices.
While GOOSE VPN exhibits commendable features, it's important to note that its ability to unblock streaming services may vary in reliability. However, considering its overall performance and features, GOOSE VPN remains a highly recommended VPN provider that is definitely worth exploring.
Now, let's delve deeper into the intricacies of GOOSE VPN's services to provide you with a comprehensive analysis and insightful opinions. Stay tuned as we uncover the full potential of this remarkable VPN provider.
A Comprehensive Analysis
After thoroughly testing Goose VPN over several weeks, I regret to say that it fell short of my expectations compared to other leading VPN providers in the market.
My primary concern with Goose VPN is its IP address leakage, which compromises the fundamental purpose of a VPN – ensuring the concealment of your actual IP address. This flaw renders Goose VPN unsuitable for torrenting and prevents you from effectively bypassing website location restrictions.
| | |
| --- | --- |
| Price | From $5.44 a month |
| Works with | Disney+, BBC, Netflix, HBO, Torrent, |
| Torrenting | Allowed |
| Protocols | L2TP/IPsec, PPTP, OpenVPN, IKEv2 |
| Payment methods | PayPal, Other Credit cards |
| Operating systems | Windows, Mac, iOS, Android, Linux |
| Money-back guarantee | 30-day |
| Connections | Unlimited |
However, the IP leakage issue is just the tip of the iceberg. Goose VPN's server network is disappointingly small, lacking the extensive coverage its competitors offer.
Moreover, it lacks advanced security features and additional extras, leaving users with limited functionalities. Another notable drawback is the absence of obfuscation tools to bypass government firewalls in restrictive countries.
While Goose VPN provides unlimited connections, fast speeds, and basic security features, I cannot recommend it in good conscience due to its inherent safety concerns.
There are far superior VPN options available, such as ExpressVPN and Private Internet Access, both of which excel in terms of robust security measures, seamless streaming and torrenting support, exceptional speed performance, user-friendly apps, and outstanding value for money.
It is essential to prioritize your online safety and opt for VPN services that offer comprehensive security, reliable performance, and a wide range of features. Given the available alternatives, I suggest exploring alternative VPN providers that provide a superior experience and meet your privacy needs more effectively.
Benefits & Features
Goose VPN offers a set of industry-standard VPN security features that are designed to protect user privacy:
AES 256-bit encryption: Goose VPN employs robust encryption methods, ensuring that user information is kept safe with high-grade security.

No-logs policy: Goose VPN maintains a strict no-logs policy, meaning no user data, including browsing history or downloaded files, is recorded or stored.

Kill switch: Including a kill switch feature ensures that if the VPN connection drops unexpectedly, your internet access is immediately disconnected to prevent any compromise in security.
Goose VPN supports IKEv2, OpenVPN, PPTP, and L2TP/IPSec protocols. While PPTP is considered outdated and unsafe, the other protocols offer a good balance of speed and safety. However, it would benefit Goose VPN to employ WireGuard, a highly efficient protocol known for its fast speeds.
VPN providers like Private Internet Access, ProtonVPN, and CyberGhost VPN, which offer WireGuard, generally outperform Goose VPN in terms of speed.
Unfortunately, I faced DNS leaks when using Goose VPN servers in various locations, including the US, Canada, Singapore, Japan, and several European regions. This is a significant concern as it exposes your IP address, making it visible to your ISP and harmful individuals who can monitor your online activities.
Enhanced Security Options
Goose VPN lacks several advanced security features commonly found in top-tier VPN providers, such as perfect forward secrecy and RAM-only servers. However, it does offer some notable features, including:
While Goose VPN claims to have DNS leak protection, the presence of such leaks is a notable red flag. To ensure maximum safety, it is advisable to disable traffic for both WebRTC and IPv6 on your devices when using Goose VPN.
Autopilot: The Autopilot feature allows users to configure the VPN to automatically connect when detecting an unsecured network, such as public Wi-Fi.

Cyber Alarm: This optional feature, available for an additional fee, alerts users if they attempt to access a potentially malicious website. While functional, it may not justify the extra cost, considering other VPNs provide integrated malware-blocking features.
For example, Private Internet Access includes PIA MACE, which is a comprehensive ad blocker that effectively blocks ads, trackers, and malware.
Speed, Reliability, & Performance
I conducted comprehensive speed tests using a Windows PC, connecting to servers across the 20+ countries where Goose VPN operates. The goal was to determine the average speed loss experienced. Initially, I ran a baseline test without connecting to a VPN server.
Next, I utilized Goose VPN's Smart Server feature, which automatically connects you to the fastest server based on your location. The speeds while connected to a server in the UK were breakneck.
Furthermore, I tested the speeds while connected to a server in the US. Although there was a slight decrease in performance compared to the UK server, the speeds remained entirely satisfactory.
I was pleasantly surprised that I hardly noticed any difference while using VPN servers in the UK and nearby European countries. Websites loaded promptly, HD videos played smoothly without buffering, and even torrenting a 10 GB file took only around 10-12 minutes, indicating impressive speed.
However, when I connected to servers located much further away, such as in the US, Singapore, and Japan, there was a noticeable delay in video loading times (around 2 seconds), and downloading the same 10 GB file took approximately 14 minutes. Additionally, the increased ping affected the gaming experience, causing occasional lag.
Overall, I was impressed with the speeds offered by Goose VPN, particularly for servers in close proximity. However, it didn't quite meet the criteria to be included among the fastest VPNs in 2023.
Privacy & Security
Goose VPN assures users that it operates under a strict no-logs policy, meaning that it does not retain any information regarding your IP address, visited websites, or downloaded files. While the privacy policy is appealing, it would inspire greater confidence if the provider underwent an independent audit to verify the authenticity of these claims, as done by ExpressVPN and ProtonVPN.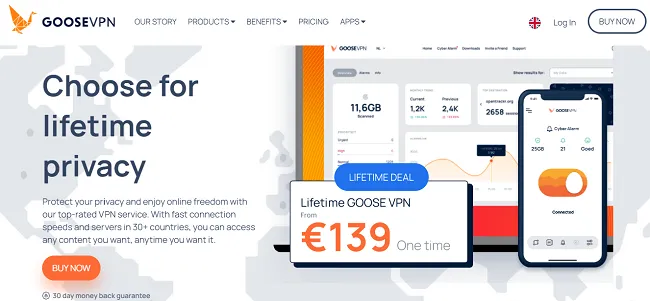 Headquartered in the Netherlands, Goose VPN falls within the jurisdiction of the 5/9/14 Eyes Alliances. These are a group of countries that collaborate in sharing intelligence data. However, since Goose VPN adheres to a no-logs policy. This should theoretically prevent any data sharing even if compelled to do so.
Goose VPN: Servers & IP Addresses
Goose VPN boasts a server network consisting of 100+ servers spread across 20+ countries. While this network size is relatively small, the majority of Goose VPN's servers are located in Europe. Additional servers are in the US, Canada, Brazil, Australia, and Japan.
As a result, users outside of these regions may face difficulties connecting to a server in their own country. Sometimes connections with even neighboring countries may be faulty, potentially affecting their speed. In comparison, many leading VPN providers offer significantly larger server networks.
ExpressVPN, for instance, offers over 3,000 servers across 90+ countries, while CyberGhost VPN boasts a network of 9,400+ servers in 90+ countries.
Goose VPN does support P2P traffic, but this feature is limited to select countries. When it comes to streaming, I encountered some confusion regarding which servers are designated for streaming purposes. As such, there was conflicting information was found on the apps and the website.
However, after contacting customer service, I received confirmation that streaming is supported on all servers. They helpfully stated that the website information is currently being updated.
In general, Goose VPN's server network is predominantly in Europe, resulting in limited choices for users in Asia, Central/South America, Africa, and the Middle East. Nevertheless, it's important to note that streaming is available on all servers, and torrenting on specific servers.
Streaming Capabilities
Goose VPN is compatible with many popular streaming sites such as Netflix, Disney+, and BBC iPlayer. However, its compatibility with Hulu is inconsistent and does not work with Amazon Prime Video.
It's important to note that streaming services typically offer different content in each country due to copyright and licensing agreements. Accessing the same TV shows and movies in your home country may be challenging when traveling abroad.
A reliable VPN usually solves this issue by providing an IP address from your home country. Unfortunately, Goose VPN has issues with data leaks. This hinders your ability to access your home country's content library.
For a seamless streaming experience both at home and abroad, I highly recommend using ExpressVPN. It supports over 65 streaming apps, including all popular ones, offers blazing-fast speeds, and ensures comprehensive DNS leak protection.
In terms of torrenting, I cannot recommend Goose VPN. Despite servers optimized for P2P traffic in multiple locations, leaks occur. Leaks of IP addresses happen, compromising the security and anonymity needed for safe file downloads.
Packages: Goose VPN pricing
Goose VPN provides both monthly and yearly subscription options, distinguishing itself by allowing unlimited simultaneous connections.
With prices starting at $5.44 per month, Goose VPN offers affordable plans. However, it falls short in terms of value compared to top competitors like ExpressVPN ($6.67 per month), Private Internet Access ($2.19 per month), and ProtonVPN ($3.99 per month).
Goose VPN offers an additional feature called Cyber Alarm, a malware blocker, but you can find an excellent malware blocker included in the subscription plans of the three VPN as mentioned earlier alternatives.
I'm not a fan of Goose VPN's refund policy. While they provide a 30-day money-back guarantee with each plan, it becomes void if you exceed 100 MB of data usage, barely sufficient for more than an hour of browsing.
Furthermore, the lack of disclosure on the main pricing page and its placement only in the Refund Policy section at the bottom of the website is disappointing. Most leading VPNs offer a data-cap-free money-back guarantee.
Overall, Goose VPN offers reasonably priced plans, but considering the limitations and drawbacks, I believe it doesn't justify the cost.
Customer Support & Assistance
Goose VPN offers a range of support options. These include a ticketing system, email support, and live chat with a virtual assistant. One or the other may ensure you have access to assistance when needed. They also offer FAQs and guides for additional assistance.
I received prompt and informative responses to my emails and ticket submissions, typically within 30 minutes, which is impressively fast. However, I found it inconvenient that the ticket system is available only in Dutch.
It required some guesswork or the use of translation tools to understand the requested information, which was frustrating.
The live chat connected me instantly to Guus, the virtual assistant with various guides for frequently asked questions. While this is a satisfactory solution, I prefer real-time interaction with a live agent to address my inquiries.
VPN providers like ExpressVPN, Private Internet Access, etc excel in offering excellent 24/7 live chat support with human representatives.
The FAQs section has nine categories, covering topics such as Account, General Information, Privacy, and Service. Each category contains around 7 to 20 FAQs. The answers provided are concise and offer basic information, so you may need to seek further details if necessary.
For instance, the page on how to register provides only a few lines instead of a comprehensive step-by-step guide.
Overall, Goose VPN offers multiple channels to contact customer support. But the most reliable and helpful options are the email and ticketing system.
Is Goose VPN a Secure and Speedy Choice for 2023?
I'm not happy with Goose VPN's subpar leak protection. In multiple tests, my DNS data leaked, exposing my IP address to the websites I visited. This lack of protection makes Goose VPN unsuitable for any online activity, including torrenting.
To be honest, I cannot recommend Goose VPN due to its failure to uphold online privacy standards. There are numerous other VPNs available that offer much better value and stronger privacy measures.
Furthermore, Goose VPN has a limited server network, and an inability to bypass firewalls in restrictive countries. Users may face a lack of advanced security features like RAM-only servers and perfect forward secrecy. Overall, some of the desirable extras such as split-tunneling and an ad blocker that I personally prefer, are missing.
On a positive note, Goose VPN does provide fast speeds, compatibility with popular streaming services, and allows unlimited connections.
When it comes to pricing, Goose VPN offers both monthly and yearly plans. However, it's important to note that the 30-day money-back guarantee becomes void if you exceed 100 MB of usage. This would be good for only about an hour of browsing.